A common issue that comes up with parents is that they tell me "my baby or toddler focuses more on eating and I can get them to eat more when the TV is on or they are watching a screen".
While this may seem like a benefit at first, it can be harmful in the long term. It can be especially problematic when parents are relying on screen time to help get their kids to eat and then have trouble breaking the habit once they reach school-aged years.
In the meantime, it can also become harder and harder to distract your child from their screen because they don't want to stop watching their favorite show or playing their favorite app. This is a slippery slope because I have often seen this become a long term habit that is really difficult to break.
Mealtime Is About Bonding and Building Trust With Your Baby
Mealtime is a great time to bond with your baby and help them develop healthy eating habits. If you're using mealtime as a chance to get some screen time in, you're missing out on an opportunity to help your baby develop healthy eating habits. This is especially true when it comes to hand-eye coordination, language development, and recognizing shapes and colors.
Studies show that babies who watch screens while they eat are less likely to tune into their bodies' satiety signals—they'll keep on eating even when they're full.
Stay interactive with your baby, and be in the present moment as much as possible to take advantage of this bonding opportunity and best help your baby develop healthy habits. Working with a Speech Language Therapist can help you learn how to engage and bond with your child.
Use Mealtime To Teach Your Child to Engage, Bite and Chew
It's never too early to start teaching your child the skills they'll need to eat independently. At first, these skills will be small and simple: encouraging them to hold a spoon or fork at the correct angle, for example, or making them aware of how they hold their mouth when chewing. As they grow older and gain more experience with the basics, you can begin to introduce bigger challenges like sitting through a meal without food spilling out of her mouth.
For now, here are some things you can start working on during every meal and snack time:
Teach your child to engage their tongue and mouth when chewing
Show your child to bite off pieces that are manageable for their chewing abilities
Teach your child to chew each bite of food well before swallowing
How to make mealtime easier:∙Serve foods with soft textures (purees, finger foods) instead of hard or crunchy ones (raw vegetables)
Teach your child to sip rather than gulp beverages
Offer only one new food at a time
Alternatives to Screen Time During Meals
When kids become reliant on screens during mealtimes, they have a lot more difficulty eating in environments where screens aren't present. Kids become reliant on the screen to be able to eat and have tantrums if they don't have a screen in front of them making it difficult for parents to manage their behavior.
Instead of screen time, give them eating related "toys" such as bowls and utensils or better yet a variety of foods to play with. Engage with them by going over shapes and colors, different textures.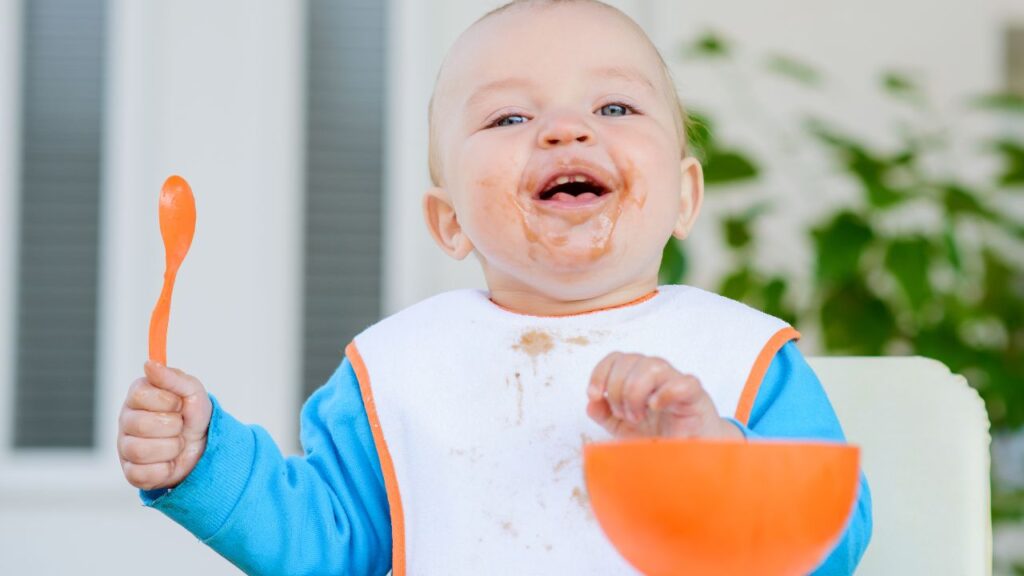 Benefits of Fully Engaging in Mealtime
Being on a screen at mealtimes takes kids out of the present moment and distracts them from fully engaging and benefiting from mealtime. I think it's important to note that if your child is distracted by the TV or playing with their iPad, they may not be getting adequate nutrients from the meal. It's crucial for the brain to receive the proper nutrition in order to grow and develop.
To ensure your baby is getting the proper nutrition for healthy brain development, it's important to help them engage in mealtime fully. There are many studies showing that the more a child is engaged in eating, the more they will eat, and the more nutritious their diet will be.
Learn More About Helping Your Baby Develop Healthy Eating Habits
If this information is helpful for you, and you would like to learn more about helping your baby develop healthy eating habits, please like and subscribe to our YouTube channel.
You can also book a quick ten minute call with Breanna Rose, SLP, Feeding Specialist, to see if working with a speech language pathologist is a good fit for you.